Welcome to Dorchester, Massachusetts!
---
Founded in 1630, Dorchester aka "Dot", was once a bustling, stand-alone town, but is now Boston's largest and most diverse neighborhood.
DotOUT was formed over a decade ago to help bridge its wide-flung communities. Founding members felt the need to "connect the Dots" between Dorchester's current and growing influx of LGBTQ residents and the various neighborhoods and communities found in Dot. At the time, there was some initial pushback at the local level regarding the Goodrich v. Department of Public Health decision which ushered in same-sex marriage legislature in Massachusetts.
Since 2004, DotOUT has been welcomed by the Dorchester Day parade organizers and has been a crowd favorite float in the annual parade. (We even won best float!) DotOUT continues to strengthen bridges between long-established communities, parishes and non-profit organizations with its commitment to positive civic engagement amongst all residents. Proceeds from the group's activities are donated to Dorchester's smaller nonprofits who foster a culture of inclusion and fairness.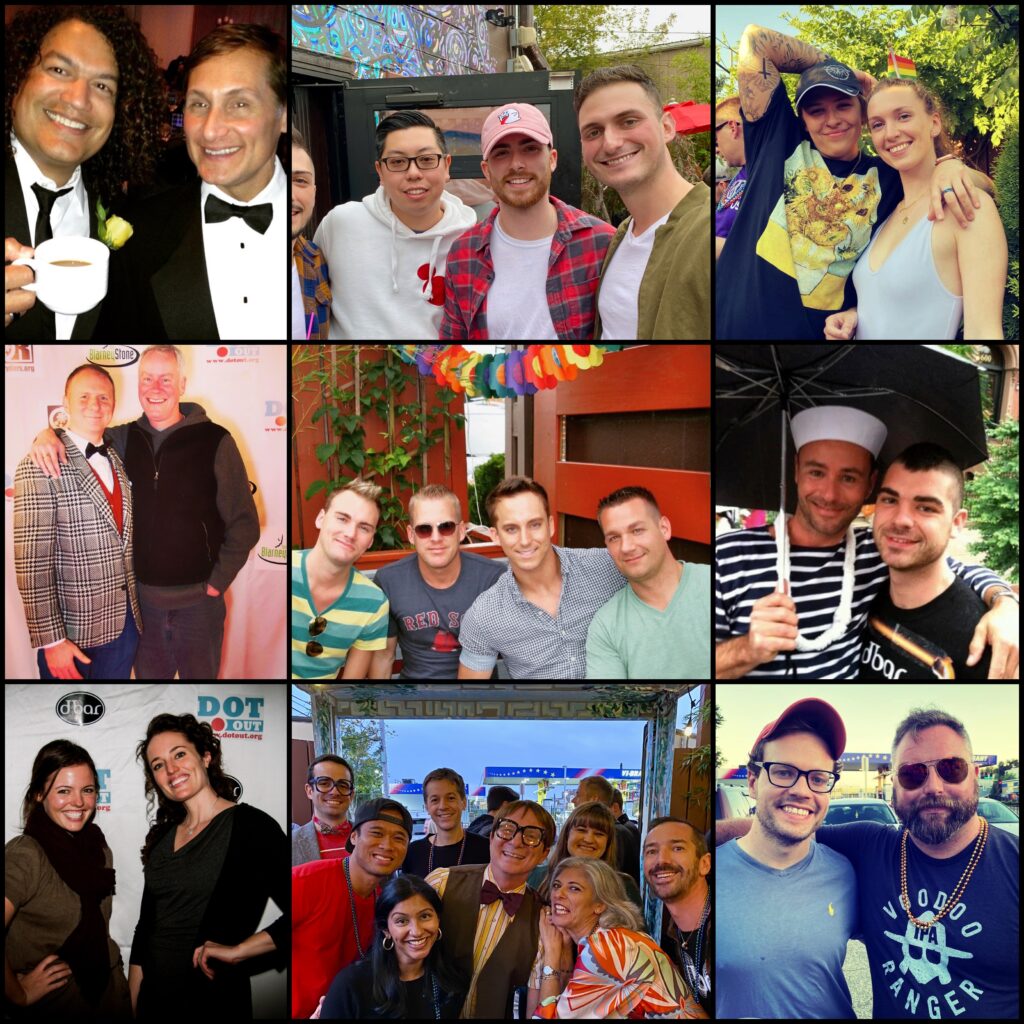 Officers
---
Chris McCoy, President
Chris McCoy dreamed of a historic house with a white picket fence for a long time but the city seemingly only offered overpriced small condo spaces. The suburbs were home to many but lacking in culture, diversity and edge. On a fateful day in 2000, when parking for a nearby restaurant, Chris would find the historic house in Dorchester's Polish Triangle that he and John would move into and restore. Still a work in progress, Chris found himself in a vibrant neighborhood where he would make connections with new friends, gay and straight that introduced him to civic pride. He joined the local civic organization, the historic society and then found DotOUT, where he was intrigued by the blend of social networking, community service and charity work.
He joined the steering committee in 2009 and was appointed to President in 2010. Since then, he has worked towards a more diverse mission and an expanded presence not only in Dorchester but in Boston and the state.  Armed with an eye for theatrical design, costumes, and themes, he transformed the DotOUT parade experience from a few banners to full on hand crafted over the top experiences garnering notice from media outlets and awards from the Boston Pride community.  In his professional life, Chris works at a major teaching hospital in Boston as Associate Director of the Antimicrobial Stewardship program with a faculty appointment at Northeastern University and serves on the research board at the Fenway Institute.
Matt Duffy III, Vice President
Matthew Duffy is different.  He continues to quote "The Prince of Tides" at will but also can cite a legal treatise just as quickly . Half Italian and half Irish, he can whip up a calzone in a nanosecond but also likes the Dropkick Murphys.  Originally hailing from Rhode Island, Matthew returned to New England by way of Washington, DC and Los Angeles, California. Reflecting on his past while planning his future, Dorchester seemed to be the obvious choice. As he and husband Scott Mills began to plan a more dual state residency, they have downsized from their Victorian on Jones Hill to a South End respite.
Matthew is a member of several civic and professional organizations in the Boston area. He has been a member of the steering committee of Fenway Health Men's Event as well as one of the founders and current board member of Gay for Good – Boston. As a practicing attorney and principle of Duffy Law Group, he is on the board of directors of the Massachusetts LGBTQ and the Justinian Bar Associations. Matt considers himself and excellent skier; however, that is open to debate.
Mark Haley, Treasurer
Mark Haley's introduction to DotOUT came when he helped with the Dorchester Day DotOUT parade float. Realizing the work that was being done would help build bridges with neighbors in Dorchester, he saw DotOUT as an essential group and one he should learn more about. Mark first moved to the St Mark's area of Dorchester in 1993 for three years and then returned for the long term when he bought a house in Jones Hill in 2000. He joined the DotOUT steering committee in September 2008 as a commitment to both the Dorchester and gay communities – two passions of his.
Mark founded Above and Beyond Catering, Inc, in Boston in 1996. As president of the company, his primary focus is to keep his vision of delivering creative and good food, consistently to all his customers. Mark is proud to say that his first big job was from Codman Square Health Center where he helped run their Men Cook for Women's Health fundraising event; he has been doing this for 11 years now. His clients range from corporate to individuals, large weddings to intimate gatherings. Mark is a graduate of the 2005 InnerCity Entrepreneurs program and holds a B.A. degree in Hotel and Restaurant Management from the University of Massachusetts, Amherst. Mark is also currently the Chairman of the Board of the South End Business Alliance.
Members
---
Stephanie Moura
Despite her chronological maturity, Stephanie, the "baby" of six siblings, has the dubious distinction of never having quite grown up. Long Islander by birth, she then spent her formative years in backwoods Maine, after which the coast beckoned her to California, DC, and finally Boston, which she has called home for the last 37 years. She and her partner have been proudly "DBC" since 2002.
Stephanie was conscripted into board service by DotOut founders shortly after it launched in 2004 and has remained active in one capacity or another since then. "The enterprise of building community – being involved in and giving back to – this diverse neighborhood feels meaningful and worth it to me." Her career has focused on coastal and marine planning/policy and stakeholder engagement/consensus building. Stephanie is an unabashed cat lover, aspiring surfer, and avid fan of Mary Tyler Moore (RIP). Around the local coffee shops she is known as "Tiny Two Shots."
Sean Garren
Sean has only lived in Dorchester for a few years now, but he has plenty of roots in the area. Sean grew up in nearby Brookline, but his Father's first home was in Meeting House Hill and his Mother grew up in nearby Quincy – her childhood buddy, Jim Brett, even has a street named after him on Savin Hill. When Sean moved back from Washington, DC with his partner, Will DeKrey, they both felt drawn to Dorchester.
Sean has spent his career advocating for a clean and safe environment, and currently runs the Northeast and Mid-Atlantic for Vote Solar, a national non-profit. In his free time, he enjoys using his organizing, political and communications chops to support equality and justice in Dorchester and beyond. Sean and Will love Dot for the diversity of cultures, great food, fun bars and access to the ocean. They love to workout at Body+Fuel, eat pho at Pho Le and watch Tottenham at the Banshee.
Mark Koeck
Mark Koeck considers himself and his husband Julian New Englanders having moved here from Central Pennsylvania and the Republic of Seychelles more than 20 years ago. They moved to lovely Dorchester in 2005 (always the trend setter, never trendy). Having lived in 6 different areas of the country, Mark would never want to live anywhere else. Mark believes in social justice and social causes and is social as well. Sustainability is another heartfelt passion of Mark's in both his professional and personal life. In his spare time, Julian makes Mark garden. He also loves mountain biking, the beach, hiking and raising a glass with friends. Having been in the Big Brothers, Big Sisters organization, Mark enjoys outings with his Lil' Bro Dani for over 10 years (he's not so little anymore and now shaving). Something no one knows about Mark is that he recycles used plastic wrap. Hey Julian, a real keeper, eh?
Kacie King
Originally from the South Shore, Kacie first moved to Dorchester in 2012 to attend UMass Boston for her Bachelor's degree. She fell in love with Dot and has been happily exploring neighborhoods over the last ten years. For the last five years, she has called Ashmont home. Kacie is excited to join the DotOUT board because its mission aligns with her recent passion for bringing together fellow progressive, queer, and community-focused folks. Outside of DotOUT and volunteering for Boston CASA, she spends her day working as an Intensive Care Coordinator for kids with mental health disorders. To recharge, she loves patio-sitting with a good book, starting too many crafts at one time without finishing the others, petting every dog that comes across her path, running (slowly) with the Pioneers Run Crew, managing her indoor jungle of houseplants, and consuming excessive amounts of coffee, chocolate, and sour beers with friends.
DotOUT is a grassroots, member driven organization committed to the ideals of acceptance, inclusion, fairness, and equality.
We believe in the strength of the gay, lesbian, bisexual and transgender ("glbt") community in Dorchester and recognize that together through our activism and neighborliness we can positively influence local opinion on issues that are relevant to us and our community.
We recognize that Dorchester's glbt residents have a long history of contributing to the very essence of our neighborhood.
It is upon this foundation that we unite as a community to working with our neighbors and friends in an ongoing effort to improve the quality of life in Dorchester by continuing to build bridges to Dorchester's many communities.
In so doing, we will advance the ideals of fairness and equality for all the residents of Dorchester.
Goal and Purpose of Social Media for DotOUT
DotOUT will use its social media channels (currently Facebook, Twitter, Instagram) to further its mission statement by working with our neighbors and friends in an ongoing effort to improve the quality of life in Dorchester by continuing to build bridges to Dorchester's many communities.
To accomplish this goal, DotOUT will:
Show our support for our sponsors and their contributions to Dorchester
Promote responsible, inclusive and compassionate citizenship in our neighborhoods and city of Boston
Promote local LGBT groups and organizations who share our mission
Follow social media leaders, commentators and individuals who engage in inclusive dialogue that supports the LGBT and/or Dorchester communities
Follow groups and organizations whose services enhance and support inclusive LGBT and/or Dorchester communities.
Politics, Politicians and Political Thoughts
Adhering to the organization's by-laws, DotOUT's social media channels shall maintain a non-partisan atmosphere and will encourage thoughtful, considerate dialogue that is supportive of our LGBT community.
DotOUT follows/befriends candidates and current politicos when asked by the candidate. DotOUT will not "like" or use similar future categories which may imply an endorsement when none is intended.
DotOUT will follow elected officials whose district serves Dorchester.
DotOUT will not use social media channels to actively campaign for political candidates and will strive for a fair and balanced coverage and discussion with all candidates.
DotOUT may use social media channels to promote activities for political candidates the membership has endorsed.
DotOUT may use social media channels to comment on politicians whose activities support DotOUT's mission and values.
Last update June 10th 2020